Big cheers to the Austin community for the city-wide biking during May Bike Month! We embraced biking to many destinations, including schools, local businesses, farms, work, bike shops, cafes, parks, and eventually back home after exploring!
On Wednesday, May 3rd, the Austin Independent School District joined us in celebrating National Bike to School Day. We partnered with Blackshear Elementary School and Reilly Elementary School to co-lead bike trains for students to ride their bikes safely to school and in good spirits. Our bike train for Blackshear Elementary started at one meet-up point, and then along the way we picked up other riders to join us, filling the Eastside streets with smiling kids and proud parents. A heartwarming sight to see kids waking up early with excitement to ride with their friends, families, and neighbors on a weekday morning.  
3,000+ Students Learned Bike Skills! 88 Bikes Donated!
Ghisallo shared our bike safety skills presentation with the 25 schools to present during Bike Month, leading to over 3,000 students learning safe riding skills. We donated 88 bikes and helmets to 25 AISD schools, primarily Title I, to give to students without bikes, so they can ride for transportation and recreation. Thank you to AISD Office of Sustainability, Safe Routes to School, and Woom Bikes for collaborating on this year's event!
Big shout-out to our participating schools! Baranoff, Blazier, Palm, Langford, Houston, Rodriguez, Linder, Becker, St. Elmo, Joslin, Cunningham, Odom, Overton, Campbell, Hart, Ortega, Norman-Simms, T. A. Brown, Reilly, Blackshear, Maplewood, Casis, Oak Springs Elementary Schools and Kealing Middle School. 
Ghisallo coordinated National Bike to Work Day this year in Austin with the support of many collaborators, and it was amazing to see the whole city come together to recognize biking as a valuable way to commute. We appreciate having this special day dedicated to people on bikes, whether heading to work, to the Springs, to get coffee, to make friends, to and/or to make connections with others in the community. We had 40+ fueling stations for people to stop by for waffles, juice, coffee, tacos, bike gear and cheers. Thank you to the local businesses and organizations who volunteered their time and resources to operate fueling stations, while thousands of Austinites were riding the connected bicycle network! Ghisallo led two group rides, covering a large geographic footprint and coalescing at City Hall. 
Big shout-out to all the participating fueling stations, riders, City of Austin Transportation Department, Get There ATX, Movability, and MetroBike! Check out the 2023 B2WD Storymap for more details from the day! 
120 Farm Produce Shares Delivered by Bike!
Another great season of farm produce deliveries by bike! We partnered with Urban Roots Farm this Spring to increase fresh food access and deliver 120 farm veggie shares to households in East Austin. Over the six weeks, the farm shares featured colorful abundance of beets, cucumbers, carrots, squash, tomatoes, potatoes, onions, basil, dill, fennel, beans, lettuce, cilantro, spinach, and baby bok choy! Thank you Urban Roots for continuing to partner with us and expand what is possible for our community when organizations work together.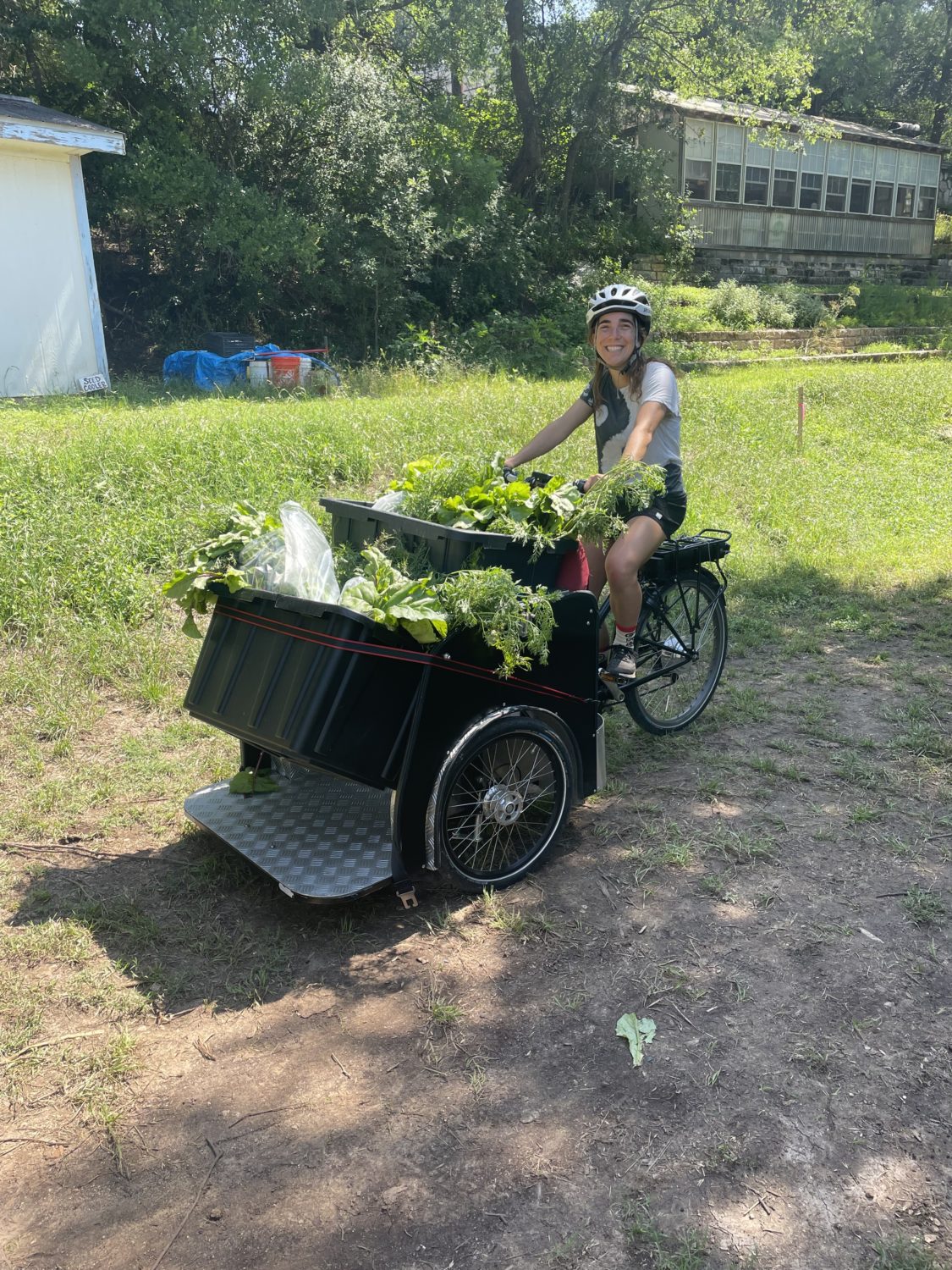 Bikecamping Overnight with Langford Elementary School
Ghisallo and Langford Elementary School collaborated to host a second bikecamping overnight for the Bike Club students. Students built up their skills in Bike Club each week leading up to the bikecamping overnight in May. On Thursday, May 11th, instead of going home after-school, the students biked, guided by Ghisallo and Langford staff, to Mckinney Falls State Park, a 6-mile ride from school. After learning skills throughout the school year, the group exemplified safe cycling skills and explored bikeways and trails en route. Five of the seven students had never camped before. Students enjoyed biking, swimming, eating camp-cooked meals and S'mores, sharing stories during a Bike Story Night, singing karaoke, and sleeping outside in nature. Students explored the wildflowers and nature around them during the bike camping overnight experience, and were able to experience the joys of bike travel.