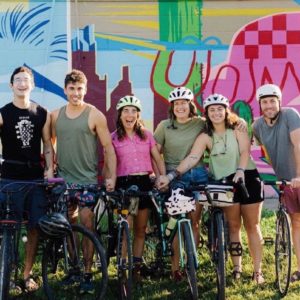 Ghisallo Cycling Initiative (GCI) is looking for an enthusiastic Austin Programs Coordinator and Community Educator.
Job posting below. Please feel free to share widely with anyone who you think may be interested.
Job Description
Ghisallo Cycling Initiative is seeking a highly motivated and passionate individual to join our team as an Events and Social Media Coordinator. This dual-role position will be responsible for planning and executing events that promote cycling and active transportation, as well as managing our social media presence to engage and inform our community. The other portion of the position, especially during the summer, will be focused on youth and community safety, transportation, education, encouragement, and engagement through events and programs related to Cycle Academy, Golden Rollers, and City Cyclist programs. This is a full time position that will require 40 hours a week with periodic late evenings, weekend availability, and other work based on GCI's needs, staff skills, and interests.
Responsibilities
City Cyclist Programs
● Perform program site data gathering and selection
● Under supervision, coordinate multimodal and cycling events in partnership with the City of Austin
● Communication, relationship building, and coordination with partner sites
● Provide program management, scheduling, deployment, surveying, and participant instruction
● Gather and complete program documentation, data entry, and basic reporting
● Perform management and maintenance of program equipment, supplies, and materials
Public Outreach & Engagement
● Develop connections and contacts with a diverse set of communities and community service organizations
● Develop and execute social media strategies, creating and sharing engaging content, optimizing organization's
pages, moderating user-generated content, analyzing social data, and collaborating with other partners to fulfill
the mission
● Coordinate and staff the following events:
 Community outreach and education events
 Plan and/or attend Bike Month and Biketober community/social events
 Stakeholder engagement meetings as needed
 Other public events as needed
● Create and distribute education and outreach materials such as brochures, cards, information sheets
● Represent Ghisallo at partner events
● Public promotion and documentation of projects, programs, and events via Ghisallo website (blog) and social
media feeds
Volunteer Coordination
● Implement volunteer recruitment and onboarding activities:
 Manage public event postings and volunteer event sign-ups
 Respond to all inquiries regarding volunteer opportunities
 Process new volunteer requests, ensuring that they are entered into Ghisallo's volunteer management system in a timely manner
 Plan and execute regular volunteer on-boarding and trainings for approved volunteers
 Regularly communicate with Ghisallo's local volunteer base about upcoming volunteer opportunities
Required Qualifications
● Enthusiasm for Ghisallo's mission, and excited to get more people on bikes, especially youth and their families
● Comfortable and confident riding a bicycle on roads (interacting with vehicular traffic), trails, and sidewalks
● Can pass a Federal (fingerprint based) Background check related to working with youth and vulnerable populations
● High School Diploma or GED
● Valid Texas driver's license and ability to pass MVR check required (No more than 2 minor violations, and no major
violations, in past 3 years)
● Ability to work at a range of geographically distributed program sites across the greater Austin area (primarily
Travis County, but possibly Williamson County)
● Comfortable working outdoors and moving bicycles and equipment (repetitive motions, up to 40lbs)
● Available evenings and weekends to staff events as needed
● Comfortable with public speaking, leading groups of people, and possibly appearing on TV or radio
● Strong writing, editing, proofreading, and communication skills
● Familiar with Gmail, Google Cal, Google Docs, Google Sheets
● Strong organizational skills and ability to manage multiple ongoing programs and related tasks
● Self-starter who enjoys building systems and working as a part of small team
● Experienced in riding bicycles in Austin for transportation and/or recreation
● Basic bicycle maintenance skills
Additional Qualifications (not required, but desired)
● Previous experience working with diverse groups including children, adults, or people with disabilities in any capacity
● Conversational Spanish language competency
● Cultural competency as it relates to our prospective clients and Austin
● Experience towing basic cargo trailers (10'-20')
Salary & Benefits
$3,583.33/month, Reimbursable Health Care Fund monthly stipend, mileage reimbursement, paid time off, paid sick leave, professional development budget. More details available in the Ghisallo Employee Handbook.
Anticipated start date of October 15th, 2023. This is a grant funded project with funding secured through October 1st, 2025. As such, the position is for the duration of the grant term, with continuation contingent upon grant funding.
Please note that Ghisallo is a Tobacco Free Workplace. Tobacco use is prohibited at all worksites and employees may not have the smell of tobacco smoke about their persons during work hours or while on company business.
To Apply
To be considered for this position, submit a cover letter, resume, and list of three references via email to jobs@ghisallo.org using a subject line of: Special Projects Coordinator and Community Educator – Austin, TX
Nondiscrimination policy: We are committed to diversity among our staff, and recognize that success requires the highest commitment to obtaining and retaining a diverse staff that provides the best quality services. We are an equal opportunity employer and it is our policy to recruit, hire, train, promote and administer any and all personnel without regard to sex, race, age, color, creed, national origin, religion, economic status, sexual orientation, gender identity or expression, ethnic identity or physical disability, or any other legally protected basis.