Ghisallo Cycling Initiative inspires people of all ages and abilities to explore the world by bike, and we have unleashed a range of events and self-guided tours during May Bike Month to do just that!
Film Festival
To get rolling, we released our 2021 Film Festival, which features human stories from around the world with the theme of Community & Connectedness. All films involve bicycles in some form or fashion, but as a supporting character because it is the people that put bikes in motion and bring them to life. Anyone can watch for free and at their leisure at http://filmfest.ghisallo.org/202105.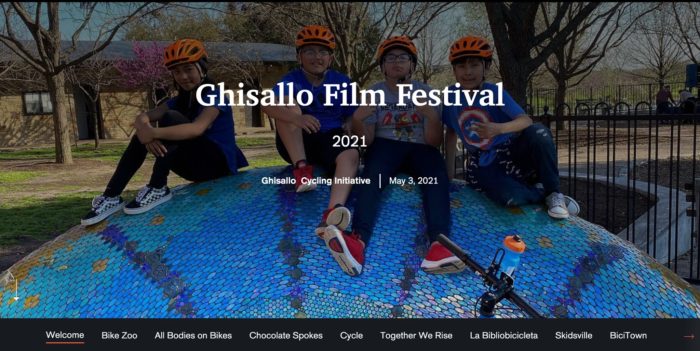 Bike & School Day
In partnership with AISD Sustainability and AISD Transportation, we launched Bike & School Day on May 5th so students could learn and practice bicycle safety skills whether learning on campus or at home. 25 schools participated and we distributed 100 bikes (thanks to Guardian Bikes), 100 helmets (thanks to Texas Medical Association and Travis County Medical Alliance), and over 600 rechargeable bike light sets (thanks to Texas Department of Transportation) across the district for students who participated. 
Over 3500 kids in Austin learned bike skills, and Langford Elementary School even had a bike parade! Before the parade, Ghisallo worked with the PE Coach at Langford to integrate our BikeStart Learn-to-Ride program into PE classes so 72 students could learn to pedal, balance, and ride!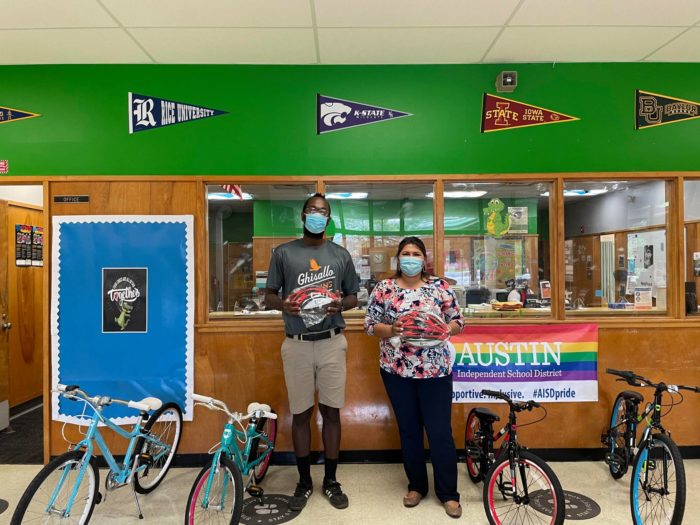 Bonus shoutouts to Sunday Bikes for donating the BMX youth bikes to a participating Middle School, Longhorn Car and Truck Rentals for the trucks to help us haul the gear all over town, and Major Taylor Cycling Club of Austin for helping us get the last 20 bikes built up at our build party at the ABGB.
Wheelie Good Snack Packs & Farm Shares
Each week during Bike Month, our incredible volunteers and staff have been delivering over 270 Wheelie Good Snack Packs and 20 fresh Urban Roots farm shares to families in East Austin – all by bike! The exchange of friendly hellos and healthy snacks outside doorsteps has been bringing smiles to both the kids and adults.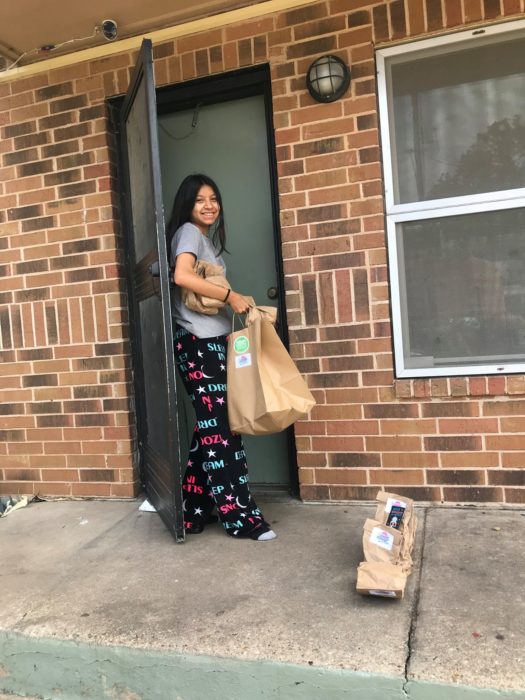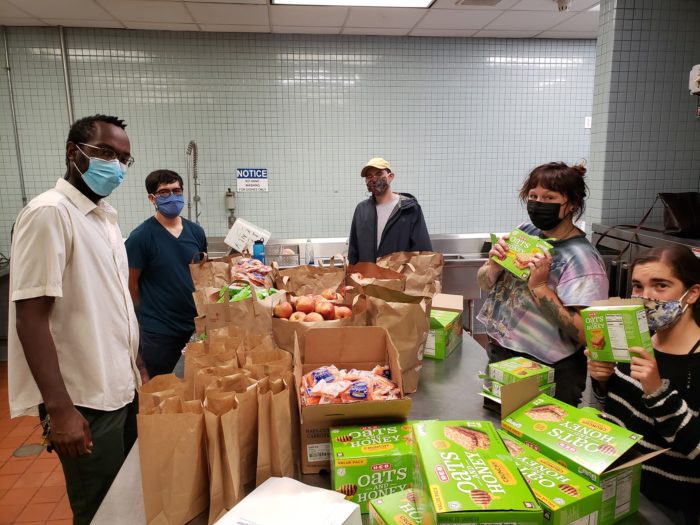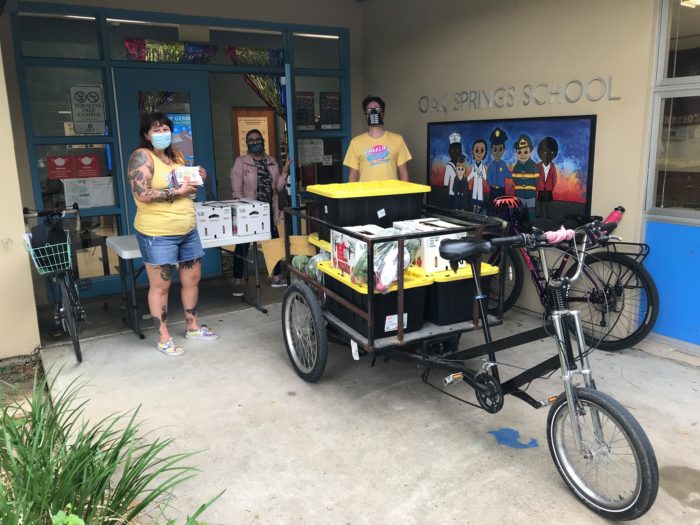 Group Rides & Self-Guided Tours
Joining forces with rad organizations including Black Women Who Kayak+, Outdoor Afro Austin, Odditree Society, and Major Taylor Cycling Club Austin Ghisallo is leading organized group rides and/or providing bikes, safety, and route support. 
In addition to community rides, Ghisallo has been releasing self-guided tours, leading with the Legends Mosaic Portraits Project, which is a series of 17 mosaic art portraits of Black Female and Chicana/Latina Civil Rights Leaders. Visit the Legends StoryMap for the map, plus details on the fearless leaders' biographies and talented local artists that made the mosaics at http://legends.ghisallo.org
Ghisallo and Decipher City worked together to relaunch their collaborative "Woven in Among Us" series as fully self-guided biking or walking tours. The Black History of East Austin tour is available at http://woven.ghisallo.org/black-history-of-east-austin, and we'll be posting the Chicano History Tour and Black Architect Tour in the next week.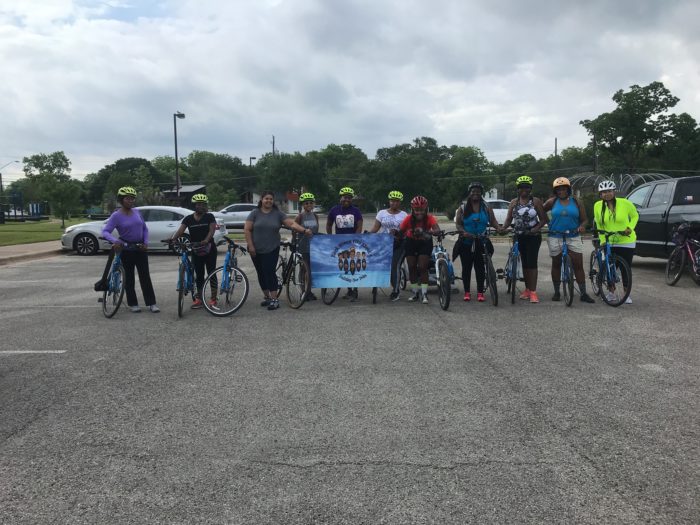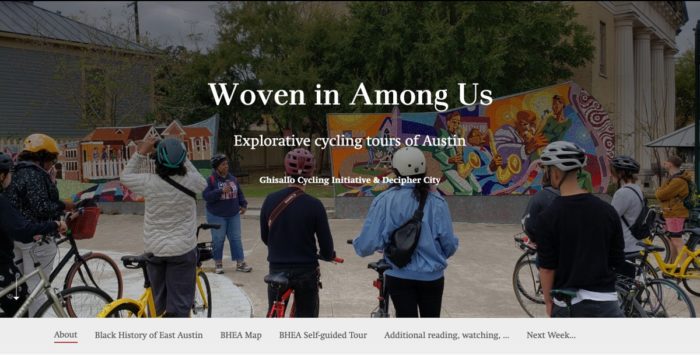 Weekly Themes
As part of Ride Bright at Night week, we teamed up with East Side Pedal Pushers, Cycleast, and Clown Dog Bikes to get more lights on bikes. Each shop has 20 USB rechargeable bike light sets for free for riders who don't have lights. We also collaborated with the Austin Public Library to get 2000 Ride Bright Bookmarks added into their Kids Block Party activity packs . We'll been doing a Bike Book Kids Block Party event in early June to keep the party going!
Ride-to-Eat is returning the last week of May, when we will share a map of crowdsourced food destinations in Austin with bicycle parking. And on the topic of dining, Wu Chow Austin created a signature drink for May – the GINsallo. $1 of each drink will be donated to Ghisallo.
During early voting weeks and leading up to election day on May 1st, we released our Pedal to the Polls guide to share voting information and encourage people to ride their bikes to vote. Check it out at http://pedaltothepolls.citycyclist.org/.